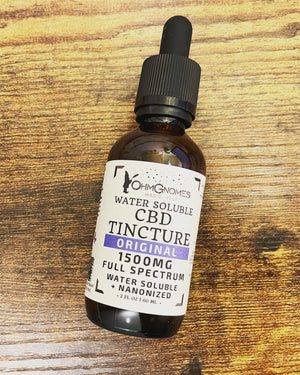 Nanonized Water Soluble Full Spectrum CBD Tincture - Original
Sale price Price $186.00 Regular price
Full Spectrum, Water Soluble, Nanonized CBD Elixir -
Flavor Options:
Original
Strength Options:
1500mg Full Spectrum CBD/ 60ml
>1500mg CBD / 55mg THC<
16mg CBDv
29mg CBDa
30mg CBG
157mg CBC ( WOW!)
60 - 1ml doses @ ~25mg CBD + 2.6mg CBC + ~1mg Delta-9-THC/ea
~~~~~~~~~~~~
Magically handcrafted with Full Spectrum CBD Oil extracted from Hemp that is lovingly grown in Colorado and produced in Houston, TX.
~~~~~~~~~~~~
CBD Elixir Ingredients:
Water, Modified Coconut Oil, Natural Flavors, Vitamin E, Potassium SOrbate, Sorbic Acid, Sodium Citrate, Citric Acid, Extracted Full Spectrum Nano Emulsified Industrial Hemp Oil
This product is entirely VEGAN, GLUTEN FREE, and MADE IN PRAYER.
~~~~~~~~~~~~
We only use Full Spectrum CBD oil as to share the "full entourage effect" of the blend of cannabinoids in Hemp. What this means is that our magical tincture here contains a mixture of all the parts of hemp that best support your wellness journey. By using an oil that is Full Spectrum, this tincture contains a lot of CBD, some THC, and hints of CBG, CBN, and unactivated cannabinoids which all lend themselves to best supporting you!
USES:
Easily use this directly under or on the tongue or blend this into your favorite drink or morning smoothie, baked goodies, or delicious meal! Being 100% WATER SOLUBLE this CBD Elixir can be mixed into any drink or food item! 
So go ahead, MAKE EVERYTHING CBD INFUSED! 

Handcrafted in Austin, TX!
~~~~~~~~~~~~~~~~~~~~~~
These statements have not been evaluated by the Food and Drug Administration. This product is not intended to diagnose, treat, cure, or prevent any disease.