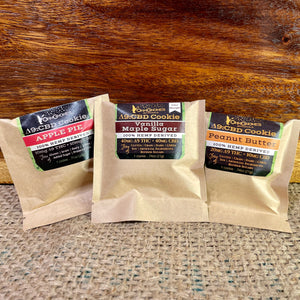 3 Strength D9-THC Cookie Sampler Bundle
Sale price Price $35.00 Regular price $43.25
3 Tiered Strength D9-THC Cookie Sampler Bundle 

Bundle Includes:
(1) 40mg Compliant D9 THC : 40mg Full Spectrum CBD Honey Almond Cookie -   Vanilla Maple Sugar
(1) 20mg Compliant D9 THC : 10mg Full Spectrum CBD Honey Almond Cookie - Peanut Butter
(1) 10mg Compliant D9 THC : 10mg Full Spectrum CBD Honey Almond Cookie -    Apple Pie
Organic Ingredients
Gluten, Dairy, & Grain Free
Non-Isomerized, Natural, Hemp Derived, Legal, Delta-9-THC
Farm Direct Trade
Locally & Regionally Sourced
Clean Ingredients*
Keto & Paleo Friendly
Handmade in Austin, TX
This is a Bundle of a GRADIENT of strengths from Low Dose to High Dose THC. Be aware of the cookie that you are choosing to consume before consuming.
ALWAYS START SLOW, LESS IS MORE!

*Free of : Gluten | Grain | Dairy | GMOs | Soy | Artificial Ingredients | Refined Sugars
___________________________________________________

D9- THC Highlights: 
Effect: Very Definitely
 Psychoactive, Potent Wakefulness, Giddy Good Time
Taste:
 Sweet but not overtly, Nutty
Target Use:
 Relaxation, Mood Boost, Ease Aches, Clarity of Mind
Pairs Well With: Cold Milk, Ice Cream, Hot Cacao
Ingredient Highlights:
Monk Fruit Sweetener:

 

a great substitute for those creatures sensitive to old school plain sugar - this sweetener doesn't register as sugar in the body as it has no glycemic index.

Housemade Organic Vanilla Extract:  Organic Madagascar Bourbon Vanilla Beans extract in-house with Organic Gluten Free Vodka

.

Central Texas Honey: Sourced from within 150mi of our Gnome Base, we utilize a Central Texas Wildflower Honey made by Healthy Bees!
California Organic Almonds:

 

We source cooperatively grown Organic Almond Flour produced in California's fertile soil that are non-pasturized!
___________________________________________________
Go ahead, Feel Magic, Bee Magic, and order a bag or 3!
 Let our wonder cookies rejuvenate your body with a bit of yummy bliss!
___________________________________________________
Cannabinoid Info: 
About our CBD:
We only source lab verified Full Spectrum CBD distillate grown organically in No-Till soil in Colorado for our products. All of our products are free of pesticides, herbicides, and any contaminants. We further lab verify our products for proper dosages by lot!
Compliant Delta-9-THC? 
When Hemp derived & not exceeding 0.3% by dry weight of a product, Delta-9-THC is a permissible compound. Delta-9-THC is a potently psychoactive & activating compound that has the potential to provide great physical & mental relief in even small doses. When ingested, Delta-9 converts to a more potent form of THC (11-Hydroxy) & can provide a longer sustained relief. Our extracts are 100% derived from Colorado and Texas grown Hemp.
 ~~~~~~~~~~~~~~
What is our BUZZ?!
Welcome to our Honeyed Dimension, where Organic Hemp & Cannabis, Herbs, Honey, and a dash of magic all alchemically come together in 1 brilliant CBD Honey Almond Cookie! Sourced from the Beekeeping Clan of the Gnome Tribe of here and afar, every OhmGnome Honey Almond Cookie is a regional taste of plant medicine made easily accessible for our buzzy lives! Each variety of cookie is crafted from organically and regionally sourced honey and Fair Trade or Wildcrafted Herbs, and each designed to unite snacks and herbalism in bliss. Now there's a new reason to eat cookies!
~~~~~~~~~~~~~~
Sourcing honey primarily 150mi of our Gnome Base, we are striving to highlight regional based plant medicines and makers. We aim to support and promote ethical beetending and harvesting of honey, Living & Ethical Wages for bee caretakers and food producers, and also all types of organic, local, and regional regenerative farming practices! When sourcing beyond our local foodshed, we support only Fair Trade and Organic Ingredients. Each Honey Almond cookie is a step towards personal, environmental, and economic wellness for all those involved!
~~~~~~~~~~~~~~~~~~~~~~
These statements have not been evaluated by the Food and Drug Administration. This product is not intended to diagnose, treat, cure, or prevent any disease.