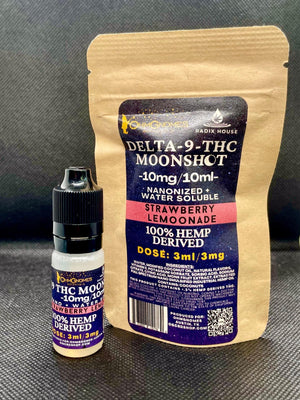 CASE: D9-THC Moonshots - Nanonized Water Soluble Full Spectrum Delta-9-THC Tincture
Sale price Price $96.00 Regular price
WHOLESALE OPTION:
THC Moonshots
Full Spectrum, Water Soluble, Nanonized Delta-9-THC Elixir
Available in 1 dose: 10mg Delta-9-THC
Available in Cases of (12) units
Flavors: Starberry Lemoonade
"Think ABSORPTION, not Total Milligrams Per Package"
Full Spectrum THC Extract
Not Processed through liver - so very quick onset & high absorption!
Nanonized to Average of Less than 50nm
Fully Homogenizable in Water
Non-Isomerized, Natural, Hemp Derived, Legal, Delta-9-THC
Regionally Sourced Hemp
Clean Ingredients*
Keto & Paleo Friendly
Produced in Houston, TX & Packaged in Austin, TX
This Elixir Shot is infused with Full Spectrum Delta-9-THC - we suggest between a 3mg - 5mg dose depending on tolerance.

*Free of : Gluten | Grain | Dairy | Soy | Artificial Ingredients | Refined Sugars
___________________________________________________

Highlights: 
Cannabinoid Profile:
10mg Moondrops: 10mg Delta-9-THC
What is Water Soluble & Nanonized THC? How is this different than regular THC Oil or an Edible?
Nanonized THC is a 90%+ bioavailable (absorbable) form of THC that acts on the body faster than oil-based tinctures due its smaller molecular size and its relative similarity to water. When THC is emulsified with (bound to) certain ingredients, this extract is 100% dissolvable into water-based drinks making them more easily absorbable than an oil based product. Where a traditional oil based tincture is around 30% bioavailable, a water soluble & nanonized product is about 3x more!
Water Soluble & Nanonized THC is not processed through the liver and is absorbed by the lining of the mouth, throat, and stomach right into the bloodstream. Unlike an edible that needs to be digested and processed through the liver, ultimately degrading a majority of the cannabinoids consumed, a water soluble & nano extract is hardly degraded because there is no digestive system or liver involved. Absorption rates are increased as well as speed of onset! The experience overall is shorter than with an edible and is very similar to the effects of smoking.
Effect: Very Fast Acting! 
Within minutes of consumption a wave of relief will begin to be noticable. Very clear headed "sativa" like experience with little to no body heaviness.
Taste:
 Not overtly sweet, tangy, slight bitter notes from extract
Target Use:
 Relaxation, Mood Boost, Ease Aches, Clarity of Mind
Pairs Well With: Sweet Tea, Sparkling Water, Lemonade, or Anything with Water
Ingredient Highlights:
American-grown Hemp Extract:

 All of our hemp extracts are derived from American Grown Hemp! Usually crops are coming from Colorado, Oregon, or Texas.

Monk Fruit Sweetener:

 

A

 great substitute for those creatures sensitive to old school plain sugar - this sweetener doesn't register as sugar in the body as it has no glycemic index.
___________________________________________________
Instructions on Use:
Easily use this directly under the tongue for as 15-30 seconds for fastest relief or for best taste blend this into your favorite drink or morning smoothie, baked goodies, or delicious meal! Being 100% WATER SOLUBLE this CBD Elixir can be mixed into any drink or food item! 
___________________________________________________
CBD Elixir Ingredients:
Water, Modified Coconut Oil, Natural Flavors, Vitamin E, Potassium Sorbate, Sorbic Acid, Sodium Citrate, Citric Acid, Extracted Full Spectrum Nano Emulsified Industrial Hemp Oil
Go ahead, Taste a bit of Moon Magic!
 May you find nurturing relief in every magic

 

drop!
___________________________________________________
Cannabinoid Info: 
About our THC:
We only source 2018 Farm Bill Compliant & lab verified Full Spectrum Delta-9-THC distillate grown organically in Colorado and Texas. All of our products are produced in an ISO approved laboratory setting and are free of pesticides, herbicides, and any contaminants. We 3rd party lab verify our products for proper dosages and purity by lot!
We only use Full Spectrum THC oil for

 

the "full entourage effect" of the blend of cannabinoids in Hemp.
 What this means is that our magical elixir here contains a mixture of all the parts of hemp that best support your wellness journey. By using an oil that is Full Spectrum, this tincture contains a lot of THC, some CBD, and hints of CBG, CBN, and unactivated cannabinoids which all lend themselves to best supporting you!
 ~~~~~~~~~~~~~~
What is our BUZZ?!
Welcome to our Magical Dimension, where Organic Hemp & Cannabis, Herbs, Honey, and a dash of magic all alchemically come together in 1 brilliant
brand!
Every OhmGnome product
is a regional taste of plant medicine made easily accessible for our hectic
lives! Each product is crafted from ethically sourced ingredients and are each designed to unite snacks and herbalism in
a potent experience of relief. There's magic in every taste, drop, and toke when you choose OhmGnomes Botanicals!
Sourcing ingredients from 150mi of our Gnome Base, we are striving to highlight regional based plant medicines and makers. We aim to support and promote ethical farming, Living & Ethical Wages for food producers, and also all types of organic, local, and regional regenerative farming practices! When sourcing beyond our local foodshed, we support only Fair Trade and Organic Ingredients. Each OhmGnomes product is a step towards personal, environmental, and economic wellness for all those involved!
~~~~~~~~~~~~~~~~~~~~~~
These statements have not been evaluated by the Food and Drug Administration. This product is not intended to diagnose, treat, cure, or prevent any disease.